news stories and interviews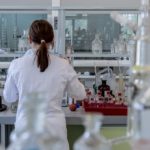 Implemented by UNESCO, this day is celebrated every year on 11 February to promote women and girls in science, and promote full and equal access to, and participation in, science for women and girls.
To mark the day, we asked two of PREMSTEM's female researchers for their reflections of being a woman undertaking a career in science.

#premstem researcher @RijtSabine is the guest editor for a #specialissue of @Nano_MDPI, a special focus of which will be on #research studies dealing with #nanoparticles that promote tissue and organ regeneration. Call for submissions is open now!
Read More